Oliver Cromwell a revolutionary war soldier received the Badge of Merit for six years faithful service from General George Washington, will finally be honored in his hometown of Burlington, NJ. The Daughters of the American Revolution (DAR) will have a ceremony and award a plaque in honor of his participation and efforts in the American Revolutionary War. In addition, there will be a plaque installed at his home on 114 East Union St., Burlington, New Jersey in recognition of his service to the country.
The recognition services will start at 10:00 am on Wednesday, April 27th and will be held at 100 Block of East Union St., Burlington. Mayor Barry W. Conaway will welcome visitors and provide opening remarks followed by NJDAR State Regent Bonnie Matthews.
DAR is thrilled and humbled to finally be able to recognize and acknowledge Pvt. Oliver Cromwell for his contribution to our freedom efforts during the Revolutionary War stated Matthews. After opening remarks there will be a Color Guard, Pledge of Allegiance, National Anthem, and opening invocation by Pastor Parker of the Broad Street Methodist Church. In addition to recognition of Cromwell by many State, County and National offices, the highlight of the even will be recognition of Cromwells descendants. The program, which will last approximately 45 minutes, and will conclude with presentation of a plaque stating, Original Home of Revolutionary War Soldier Private Oliver Cromwell New Jersey State Society Daughters of the American Revolution. The closing benediction will be given by Pastor Timothy Hutton of the Second Baptist Church, Mt. Holly, NJ.
(Complete schedule of the ceremony is below).
Join the DAR and the residents of Burlington and family members of Oliver Cromwell at 100 Block on East Union Street, Burlington, on April 27 @ 10 for a long overdue and well-deserved recognition of a valiant Black man who served and fought during the Revolutionary War. For further information visit: https://olivercromwellceremony.njdar.org/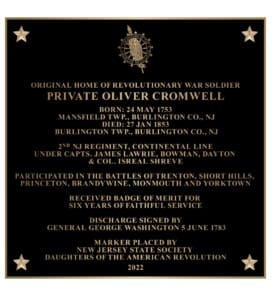 Cromwell Ceremony
Start Time: 10:00am
Order of the Day
Welcome Burlington City Mayor Barry W. Conaway
MC NJDAR State Regent Bonnie Matthews
Opening Ceremonies

Posting of Colors SAR Color Guard
Pledge of Allegiance local boy scouts or family members
National Anthem church or school choir
Invocation Pastor Parker Broad Street Methodist Church

Opening remarks President General Denise VanBuren
US President or VP greetings to be read by: NJDAR State Corresponding Secretary
Governor or Lt Governor
US Senator
US Congressman Andy Kim greetings to be brought by: ______ from his office
NJ Senators and/or Representatives [1 highest]
Burlington Community Leaders &/or Church Organizations – [1-2]
Descendants of Cromwell Jane Fox Long
Story of how the marker came to fruition NJDAR State Regent Bonnie Matthews
Presentation and Ceremony of the Original Home of Revolutionary War Soldier Private Oliver Cromwell Lynn Forney Young, Historian General & State Historian
Awarding of Amerca250 Certificates & Medals NJDAR State Historian Deb Hvizdos
Benediction Pastor Timothy Hutton
Closing with Thank You NJDAR State Regent Bonnie Matthews