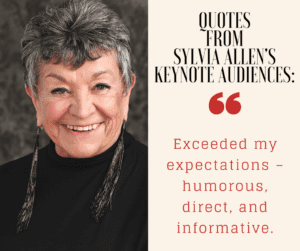 Packed room. Very entertaining. Great content.
Love, love, love! Entertaining, relevant, engaging. This is the perfect expansion on what I've been working on. Timely before 4th quarter.
Fantastic no nonsense approach to partnership opportunities!
You were awesome! Great session and love the information that we can take back to our office to be successful!
Best speaker so far today!
Best session! So informative. Please bring a pricing to partnerships/sponsorships next year to the session list.
Please bring her back! I would love to hear her speak about pricing.
Sylvia helped me turn around some money losing events into profit makers. Her insight and thought processes on sponsorships is great. I still use some of her basic ideas in other unrelated business ventures. Shes a great speaker, fun to learn from and yes, very giving and supportive!