George Family Foundation and Allina Health partnership to improve health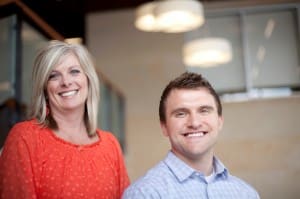 AITKIN, Minn. Riverwood Healthcare Center is among 13 health systems serving Minnesota and western Wisconsin communities that have been chosen to participate in a three-year program called the Healthy Communities Partnership. A $475,000 grant from the George Family Foundation and Allina Health, and administered by the George Family Foundation, will enable Riverwood to screen, assess and improve the health of local residents in the Aitkin County and Garrison area communities it serves.
This program recognizes that at least 40 percent of deaths in the United States are attributed to four behaviors: unhealthy eating, inadequate exercise, smoking and hazardous drinking, said Courtney Baechler, MD, vice president of the Penny George Institute for Health and Healing, the part of Allina Health that is responsible for health promotion and wellness. About 95 percent of the population lives with an identifiable risk factor.
To implement a community-wide wellness initiative that will focus on obesity and healthy weight management, Riverwood has hired a full-time wellness coach, Dan Schletty, and a part-time wellness coordinator, Lisa Kruse. Dr. Jessica Hodson, family physician at Riverwood, will act as physician adviser and help promote and oversee the wellness initiative.
Schletty, who has seven years of experience with health coaching and personal training, will offer one-to-one coaching to help participants in health screenings develop personalized health improvement plans. With 13 years of experience working as the community education director for the McGregor school district, Kruse is very familiar with Aitkin County and has been instrumental in the development of health and fitness programs. She will coordinate community outreach for the wellness initiative and compile an inventory of local health and fitness resources that will be shared with the community.
"As our local population ages, getting people to take greater responsibility for their health is more important than ever, said Michael Hagen, Riverwood CEO. With health care costs consuming such a large share of government budgets and personal income, taking steps to embrace healthier behaviors is no longer optional; its a must do now. We are excited to join this partnership for wellness where we now have greater resources to engage local residents, businesses and organizations and our own staff in improving their health.
Along with the other health systems in the partnership, Riverwood will customize programs to fit specific needs and resources of the communities it serves. Some standard components will include:
• Hold baseline screenings to help participants learn their health score and what that means for overall health.
• Participants will participate in a health screening and be rescreened each year over a period of three years.
• Encourage use of an online tool called Family Health Manager, which will be available on Riverwoods website.
• Develop an inventory of local resources to identify and fill gaps in local wellness programming.
• Work with each participant on a health improvement plan that combines medical and non-medical approaches.
We need to move away from the find it, fix it, and forget it model currently in wide use in the medical community, said Penny George, co-founder of the George Family Foundation. These partnerships are a step toward making integrative healthcare more mainstream, and we believe that is central to empowering individuals to take more responsibility for their own health.
The 12 other health systems that have been selected and have had ongoing discussions with Allina Health about ways to improve health and wellness activities in their communities include First Light Health System, Mora, MN; Hutchinson Area Health Care, Hutchinson, MN; Ridgeview Medical Center, Waconia, MN; Baldwin Area Medical Center, Baldwin, WI; District One Hospital, Faribault, MN; Buffalo Hospital, Buffalo MN; Cambridge Medical Center, Cambridge, MN; River Falls Area Hospital, River Falls, WI; Cuyuna Regional Medical Center, Crosby; Grand Itasca Clinic& Hospital; Regina Medical Center, Hastings; Rice Memorial Hospital, Willmar.
These partnerships are a new direction for Allina Health, formerly Allina Hospitals & Clinics. With this and similar initiatives, such as the Neighborhood Health Connection and Heart of New Ulm, the health system is moving beyond hospitals and clinics and into communities. By using consistent screening methods and measurable electronic data, Allina Health researchers are hoping to identify successful health improvement catalysts.
Allina Health is dedicated to the prevention and treatment of illness and enhancing the greater health of individuals, families and communities throughout Minnesota and western Wisconsin. The George Family Foundation is a private grantmaking organization with an emphasis on leveraged, strategic funding. The Foundation funds innovative ideas in integrative health, education, leadership development, social justice and spirituality in everyday life. More about the Foundation can be found online at www.georgefamilyfoundation.com

Contacts:
Arlene Wheaton, Riverwood Healthcare, awheaton@riverwoodhealthcare.org, 218-232-4989
Gloria OConnell, Allina Health, gloria.oconnell@allina.com, 612-863-4801
Margaret Ann Hennen, George Family Foundation, mahennen@gmail.com, 651-222-7081