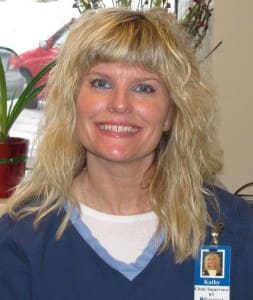 Riverwood Healthcare Center welcomes Kathy Starkka, nurse supervisor for its primary care and specialty clinics in Aitkin.
Starkka brings 20 years of nursing experience to her new role managing the day-to-day operations of the clinics, supervising a staff of 20. As a registered nurse since 1993, for the past 17 years she worked at St. Josephs Hospital in Brainerd, primarily in emergency medicine, but also in intensive and critical care and other hospital care units.
Kathy brings a wealth of knowledge and experience caring for patients with critical illnesses and injuries, says Barb Fulton, clinic and outpatient services manager. We are pleased to welcome her to our clinic care team.
Starkka earned her associate degree in nursing from Northland Community College, Thief River Falls, and will complete a bachelors degree in nursing from the College of St. Scholastica in May.
What has impressed me the most is the culture of caring among the staff at Riverwood, Starkka says. Theres a huge sense of ownership here that enhances the care for patients.
Starkka lives with her husband, Dan, and son, Matt, in Baxter. They have two adult children, Amber, 24, and Tyler, 19.