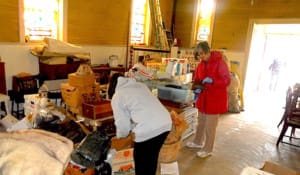 The Holmdel Historical Society (HHS), which researches, preserves and interprets the history and architectural history of Holmdel, had its first successful church clean-up on February 15 with 20 people participating. Historic clothing, unique farm implements and historic ledgers were just some of the items uncovered by the clean-up crew. The day ended with a pizza celebration, in which all gleefully participated.
Founded in 1879, the St. Catharines Church was initially built by Irish immigrant Father Michael L. Glennon on a one-quarter acre plot of land off Stillwell Road donated by Thomas Meehan. The first Catholic Church in Holmdel, it is covered by a slate roof and its pews seated about 100 parishioners. There are seven original curved pews left and they have been arranged at the front of the sanctuary.
In 1975, the churchs property at 84 Stillwell Road was donated to the HHS by the Roman Catholic Archdiocese of Trenton, New Jersey.
Currently, there is significant structural damage to the church, causing the church to tilt. There is also extensive water and insect damage, loose slate roofing, and broken windows that need to be replaced. Additionally, the church has no heating, electric or running water or sewage system, and is not handicap accessible.
It was so great to see so many enthusiastic people cleaning and sorting everything, stated HHS President Peter Manieri. And everyone was amazed at the diversity of things that were being stored in the church and the many things that had historic significance.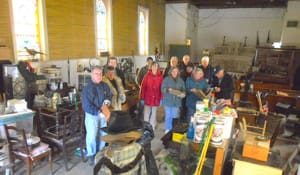 HHS will also soon begin moving forward with various fundraising events to raise money to begin structural work on the churchs major deficits and damage.
The next meeting will be held on March 14 at 6:30 p.m. at the Community Center in Holmdel. Entitled Show and Tell, members are encouraged to bring one of their most interesting historic Holmdel pieces. This should prove to an interesting and lively meeting for those who realize the historic value of Holmdel and the zeal of the HHS members.
To make a donation or join the organization as a member, annual dues for the HHS are $25 and can be paid in person or by contacting Manieri or Treasurer Rhonda Beck by calling 732-768-7583 or 732-685-4450, or by email at holmdelhistoricalsociety@gmail.com.