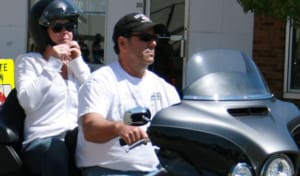 Aitkin Habitat for Humanity will host its annual Toolin Tour, a six-hour motorcycle ride through Aitkin County this July.
The motorcycle tour is a fundraiser for the Aitkin Chapter of Habitat for Humanity, with proceeds going to help in constructing a new home in Aitkin.
Since 1976, the international organization has worked to build homes for those who cannot afford to purchase traditional homes, through the help of volunteers.
Held on Sunday, July 14 from 12 noon to 6 p.m., motorcyclists and their passengers will cruise the scenic Aitkin County countryside, with spectacular views of Mississippi River vistas of rural Minnesota.
There will also be stops at Marks Bar in McGregor, and The Rustic in Palisade, along the way.
The Ride for Habitat will leave from the historic Butler Building in Downtown Aitkin (301 Minnesota Avenue North) and end at the Aitkin American Legion Post 86 (20 1st Avenue NE) with food, music, a silent auction and fun prizes.
To register for the ride or to inquire about becoming a sponsor for the event, call 218-927-5656 or email annschwartz@habitatforhumanityaitkincounty.org.