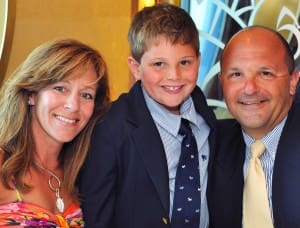 Dina DAmbrosi, Holmdel, has announced her plans to run for the upcoming Holmdel Board of Education elections to be held November 3, 2015. Her platform revolves around her slogan which is Lifelong Holmdel resident dedicated to serving our children and our community.
Dina brings a combination of professional experiences that cover both the business and the academic communities, having worked in human resources and handling benefits at Goldman Sachs and Co. in New York City, Commvault Systems in Oceanport, NJ and Donna Karan and Emanual Ungaro in New York City. On the education side, she served as president of the Parent School Association at Village School from September 2012 to June 2014 and then as President of the Parent Liaison Group at Indian Hill School from September 2014 to present. In addition, she has been a substitute teacher in the Holmdel school system since 2009.
Her platform consists of the following three goals:
1. Increase and improve communications both internally (to the school) and externally (to the residents of Holmdel);
2. Encourage greater community participation and involvement;
3. Create an open and accessible environment for the community.
I am confident that with my corporate and organizational experiences I can combine them both into a viable program that will support the existing goals and objectives of the current BOE as well as moving them forward in their efforts to serve our children and our community, stated Dina.
Her community service activities including being actively involved in the Rainbow Foundation, Holmdel Helps, Holmdel Foundation for Educational Excellence, Holmdel Environmental Commission and Holmdel Earth Day Committee.
Dina, her husband, Dean and son Nick, 11, live at 11 Cindy Lane, Holmdel, in the home that her parents, Dr. and Mrs. Georgie and George Rahnias, purchased in 1972. Her education credentials include a BA in Communications from Monmouth University and Certified Employee Benefits Specialist from Wharton School of Business. You can find out more about Dina at her website dinadforboe.wordpress.com or contact her through e-mail dinadforboe@gmail.com or call her at 732 616 4127.