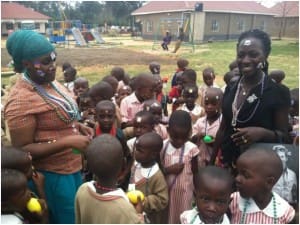 Sylvias Children, a 501(c)3 organization headquartered in Holmdel, NJ, will be featured for six weeks in the Pollak Gallery at Monmouth University. Entitled Progress it will be an update to the previous exhibit held in 2010.
Experience the village of Mbiriizi in Uganda, Africa. This exhibit tracks the progress of the Mbiriizi Advanced Primary School and is children over the last 12 years. It celebrates their lives through pictures, stories, crafts, batiks and artifacts. See the growth made possible through one womans determination to make a difference. The richness and beauty of the culture (as well as its poverty) is shared through audio clips from travelers who have visited and experienced the school. It is an exhibit of joy, of determination, of success, of life.
Audio Introduction to Sylvia's Children Exhibit – WAV File
I am so thrilled that Monmouth University is again allowing us to exhibit the beauty of Uganda and the joy of the children, stated founder Sylvia Allen. Im only one voice but the journey has been an exciting one because we have changed childrens lives. Through education and better health care they are able to come out of poverty.
-more-
The Pollak Gallery is open Monday through Friday from 9 am to 7 pm and from 10 am to 4 pm on Saturday and Sunday. All gallery events are free and open to the public.
The opening reception for the Sylvias Children exhibit will be on Thursday, November 5, from 5:30-7:30 pm. Refreshments from Via45 in Red Bank and New York Vintners Consulting will be served. For more information contact Sylvia Allen @ 732 946 2711 or Sylvia.Allen@AllenConsulting.com.