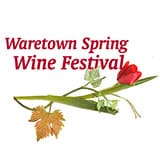 WARETOWN, N. J. The 2017 Waretown Spring Wine Festival, one of New Jerseys top annual attractions for the last three years, has put out the list today of its participating wineries for this years festival.
Its list of featured wineries includes those often ranked among the best from throughout the Garden State for their awards and superb wines and beautiful vineyards.
On Saturday, April 22 and Sunday, April 23, attendees of the prized wine festival can look forward to tasting wines from ten award-winning Garden State wineries.
Eight wineries from last years festival will be returning, including Hamburgs Cava Winery & Vineyard (www.cavawinery.com); Pilesgroves Chestnut Run Farm (www.chestnutrunfarms.com); Hammontons DiMatteo Vineyards (www.dimatteowinery.com); Monroeville Vineyard & Winery (www.monroevillewinery.net); Hammontons Plagidos Winery (www.plagidoswinery.com); Blue Anchors Sharrott Winery (www.sharrottwinery.com); Shamongs Valenzano Winery (www.valenzanowine.com); and Swedesboros Wagonhouse Winery (www.wagonhousewinery.com).
There will also be two new wineries participating for the first time in this years Waretown Spring Wine Festival, including Cream Ridge Winery (www.creamridgewines.com); and Sewells Villari Vineyards (www.villarivineyards.com).
In addition to tasty wines, festival attendees can look forward to live musical performances from The Hi Fidelity Band and solo guitarist Astronaut Jones, as well as crafters and retail vendors, such as Scentsy, LuLaRoe, The Bacon Jams and Jerky James, as well as delicious food vendors, such as 1 Potato Two, The Empanada Guy, and Sweet Concessions.
Proceeds from the event will go to benefit Sylvias Children, a nonprofit improving the conditions for more than 1,000 children in Uganda.
Sponsor for the Third Annual Waretown Spring Wine Festival include WJRZ 100.1 FM Jerseys Greatest Hits .
The festival will be held in the beautiful Waretown Recreation and Lake Area, located at 182 Wells Mill Road.
The festival will be held each day from 12 noon to 5 p.m., rain or shine.
The cost to attend is $20 in advance or $25 at the gate for those over 21. A two-day ticket will also be available for $30. Tickets are available to purchase through Eventbrite at the following link: https://www.eventbrite.com/e/waretown-spring-wine-festival-3rd-annual-tickets-31810491035?utm_term=eventurl_text. Designated drivers are allowed in for free. No dogs, hovercraft/hoverboards, drones, bicycles or skateboards are allowed during Festival days.
For more information, visit Waretown Wine Festival's web site.