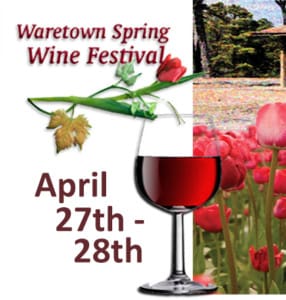 Waretown, which is located just a short distance from Long Beach Island, will host its 5th annual Waretown Spring Wine Festival, Saturday, May 2nd through Sunday, May 3rd, 2020. Festival goers can look forward to tasting wines from many of the states most prized wineries during the two-day event.
The wine festival will be held in the Waretown Recreation and Lake Area, located at 182 Wells Mill Road.
Festival goers can look forward to sampling wines from a nice variety of award-winning Garden State wineries. In addition to wine tastings, there will also be live entertainment, as well as crafters, retail vendors, and food vendors all overlooking a beautiful lake situated under magnificent shade trees. The festival will be held each day from 12 p.m. noon to 5 p.m. ET., rain or shine.
Stay Up To Date By Visiting WaretownWineFestival.com!
FEATURED WINERIES in 2019-Expect in 2020
Cedar Rose Winery
Cream Ridge Winery
DiMatteo Vinyards
Plagidos Winery
Valenzano Winery
Villari Vinyards
Wagonhouse Winery
White Horse Winery
Visit Waretown Wine Festival's Website for downloadable Vendor Forms to join the festival!