Sylvia Allen Named As One Of New Jersey's Best
50 Women In Business By NJBIZ Magazine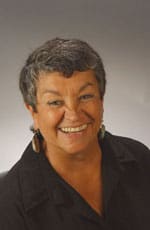 Holmdel, New Jersey – Sylvia Allen, President of Allen Consulting, Inc., was recently named as one of New Jersey's Best 50 Women in Business, an inaugural award program produced by NJBIZ, New Jersey's premiere business news publication. The Best 50 Women in Business award program honors New Jersey's most dynamic women business leaders who have been making headlines in their field. The awards recognize the impact women bfusiness owners and business leaders have in creating jobs and building communities in New Jersey. NJBIZ and the program sponsors (Wachovia Bank, Withum Smith + Brown and Morgan Lewis & Boyden Global Executive Search) will honor this year's 50 winners with an awards ceremony on Monday, March 19 at The Palace in Somerset, NJ.
Allen, celebrating her 29th year in business this year, successfully leads one of the country's top marketing organizations, which was named one of the fastest growing privately held companies in New Jersey. She has written four books, the most recent being A Woman's Guide to Sales Success, and has delivered more than 1,000 seminars on marketing and sponsorships throughout the world. She has developed marketing, public relations, advertising and sponsorship programs for a diversity of clients, both nationally and internationally.
Prior to founding her own company, Allen held communications positions with Fortune 500 companies, including McGraw-Hill and AT&T. For 20 years, she was an Adjunct Professor of Marketing for New York University, co-founded WISE, Women in Sports and Events and has been a keynote speaker nationally and internationally, including the NJ Governors Conference, National Main Street Program, National Association of Broadcasters and The Asia Forum.
In addition to running a successful business, Allen is a consummate humanitarian exemplified by her founding Sylvia's Children in 2003, a non-profit charity to benefit children orphaned by AIDS in Uganda, Africa. In 2007, the charity succeeded in paying all the expenses for 100 orphaned children's education, lodging, food and clothing. Allen's goal this year is to have the 90 remaining orphans be sponsored by caring people
Her excellent reputation as an accomplished woman of integrity and candor has earned her numerous awards, including 2007 Humanitarian of the Year, 2007 Garden State Woman Leader in Women Owned Business, 2006 Athena Award, March 2006 "Top 50 Women in Business in New Jersey" and 2005 International Festivals and Events Hall of Fame inductee.
Allen holds a BA in Speech/Theatre Arts from the University of Minnesota and an MA in Culture and Policy from Empire State College (cum laude). She also holds certification from International Festivals and Events Association as a CFEE, Certified Festival & Events Executive.
New Jersey's Best 50 Women in Business were selected by an independent panel of judges, based on their dedication to business growth, professional and personal accomplishments, community involvement and advocacy for women in business.
For more information, click here to contact us or call 732-946-2711.